Our Choir
Each Sunday, our choir leads the congregation in singing and usually presents an anthem for our enjoyment and edification.
Then twice a year (most years), the choir, along with other singers, present two cantata – one at Christmas Time and one at Easter Time.  What a blessing they are!
So, lets meet the choir: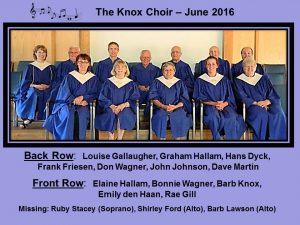 Thank you choir.  We appreciate your ministry.
****************************************************
Church Janitor
Meet Wendy Simpson, our church janitor.
Wendy was born in Brampton, Ontario and came to Alliston in January 1968.
She worked for an oil company, Baxter labs, when she lived out West, as a line worker. After she had her children, she was self employed as a residential and commercial cleaner.
Wendy has been married to Kevin for 31 years and they have four children & five grandchildren.  Since they all live in the area, Wendy feels truly blessed and has been able to look after all of her grandchildren while their parents worked.
Favourite Food:  Of course, potato chips                                                                    Pets: Oliver, the cat                                                                                                   Favourite Hymn: "In Christ Alone" by Christina  Gimmie                                           A favourite Scripture Verse:  Matthew 11:28                                                           

What does Wendy like about Knox? 

The friends I have made.  Everyone is very friendly (and it is very clean!).
You do a great job Wendy.  Thanks for keeping the church so clean!
****************************************************
Church Treasurer
J

ean Robertson

is our treasurer.  She counts the offering each week with her able assistants, Barb Lawson and Rae Gill, she pays the bills, does the yearly budget and attends to any other financial matters in the church.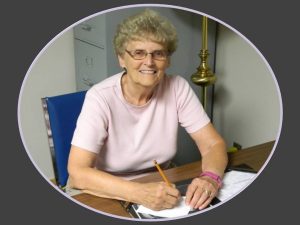 Jean was born in Alliston on October 3rd at 9:35 am. (She's not saying  which year).                                                                                                         She is retired from her work at Ontario Hydro and is married to Bob.                                                                                                                                 They have 4 children:
               

Greg

, who lives in High River, Alberta                                                              

Angela

who lives in The Woodlands, Texas                                                    

Bryan

who lives in Toronto                                                                                 

Scott

who lives in Barrie.
Favourite food

:

I

ce  Cream                                                                           

  

Pets

:

Loves Horses                 

                                                   
Favourite Hymn

:

"Morning has  Broken"            

                                   What does she love about Knox? 

The people.
Thank you Jean for doing such a great job!
****************************************************
WOMEN'S BIBLE STUDY COORDINATOR
 Tracy Hill organizes a Women's Bible Study which meets in the Parlor most Saturday mornings from 9am to 11am.  She also coordinates an Annual Women's Retreat – a wonderful day of worship, fellowship, learning and food.  The next Retreat will be
March 25th, 2017

.

Tracy, an Allistonian from birth, works as a Dental Hygienist in Barrie.
Family

: Tracy is married to Mike and they have a daughter, Hannah, who is attending the University of Waterloo.
Favourite Food:

  Chocolate
Favourite Hymn: Morning has broken
A Favourite Scripture Verse:

  Mark 14:8
What does Tracy like about Knox Church? 

The people – they are like family.  The church suppers are delicious too!
T

hank you Tracy for your leadership.  We look forward to Bible Study starting again in September.
****************************************************
MUSIC DIRECTOR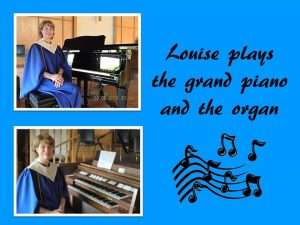 Meet

Louise Gallaugher

who was born in Alliston and returned to live on the family farm near Everett in 1996.

She has a piano studio of 15-20 piano students each year and also does freelance accompanying for local choirs and soloists.
Family

:

Louise is married to Vaughn and they have a daughter,  Katie.  

Favourite Food

:

Pecan pie                                                                                            

Pet(s)

:

Socks (he's a cat)                                                                                           

Favourite Hymn

: Be Thou my Vision                                                                                  

A favourite Scripture verse:

  Philippians 4:6-8
When asked what she loves about Knox Church, she replied:

"The choir of

course! And Tobey, she's great!"
Thank you Louise for adding to our worship with excellent music.
**************************************************
BOARD OF MANAGERS

Board Chair: Lori Knox (705) 434-0704  or lknox@ca.oetiker.com
THEIR ROLE:
ensure all financial obligations are met, including bills, stipends and salaries
care for and maintain the church building and property
keep the congregation informed of the church's financial situation on a regular basis
provide your-end financial reports and develop proposed annual budget
support stewardship initiatives of the Session
Board members are elected by the congregation to serve a 3 yr term (with re-election possible) and are expected to regularly attend monthly meetings.
Our Board meets on the 1st Tuesday of each month at 7pm