Children, Youth and Family Ministry
Church School  Each week we gather in groups according to our ages and interests in order to meet the lesson in various ways. We engage with the same story and themes as the adults so we all have something to discuss together when we get home.
Fun Events  Regularly we have events which are meant to be ways of creating community and getting to know each other.  In the past we had a Games Event complete with a chocolate fountain, and most recently a trip to Vertical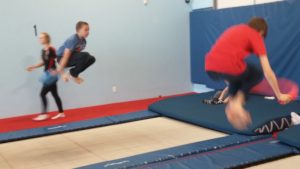 Zone Trampolines.
Service Events  As well as having fun, we believe that we should be of service to our church and our community.  In the winter we hosted a Grilled Cheese and Cupcake Luncheon and raised over $2500 to assist with a Syrian Refugee Family.
In the spring we ran a concession stand (Coffee, Muffins, Hot and Pop) at the Yard Sale on May 21st, in order to help children go to camp. We were able to donate $238 to the Camp Fund.
On June 10th we provided a Sunday Dinner and a time of Worship for people at Evangel Hall, a mission that serves Homeless people in Toronto.